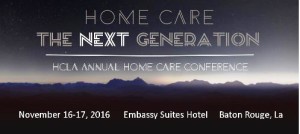 Click HERE for More Information
Blueprint for OASIS Accuracy – OASIS-C2 – Two Full Day OASIS-C2 Data Collection and Guidance Workshop. October 17 & 18, 2016, Baton Rouge, LA OASIS Workshop Information
Did you know… If you coded a patient with an infected surgical wound, diabetes, hypertension, CHF, CKD and neuropathy last year, you would code the same patient completely different this year??
Join us at the Intermediate ICD-10-CM Coding Workshop presented by Lisa Selman-Holman September 27-28, 2016 in Baton Rouge. Click HERE for brochure and more information.
New codes! Changed codes! New guidelines! Even the word "with" and its meaning has turned the coding world upside down. Guidelines we have lived with for years are now written opposite. Pressure ulcers will be subject to 3 sets of official guidance and coders and clinicians alike are going to struggle with the challenges.
Pre-claim authorization is just around the corner. Our Plans of Care and OASIS have never been subject to as much review in the recent past, and now we'll be submitting clinical documentation to Palmetto on a regular basis. The diagnoses on the claim/POC has never been so important to getting our claims paid.
Lisa Selman-Holman has revised her content to include all pertinent new information with lots of home health and hospice scenarios so you're able to apply the new information.
Now is the time to ensure that your coders are up-to-date and compliant with new changes before the huge October 1 changes.